| | |
| --- | --- |
| More Issues: | |
| | |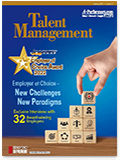 Sep 2023
Issue 37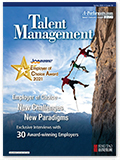 Apr 2022
Issue 36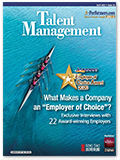 Apr 2021
Issue 35





In today¡¦s rapidly changing business landscape, human resources personnel are not only handling routine work and administrative tasks but, on a more important level, they have taken on a pioneering role to nurture new talented cohorts to contribute to their overall business success.

In this issue, HR professionals and senior management from various well-known companies across a wide range of industries share their successful initiatives and unique insights on learning and development in talent engagement. All of them are awardees of The Employer of Choice Award 2020, organized by JobMarket, as prestigious acknowledgement of their outstanding employee development strategies and practices, setting important milestones for the entire HR industry.

Property agents making use of online virtual property viewing, adapting to changes and improving employee morale in times of adversity

Due to the COVID-19 pandemic, all walks of life are severely affected. Employees tend to feel anxious about their career prospects. As an awardee of the ¡§Employer of Choice Award¡¨, Centaline Property understands employees¡¦ thoughts and quickly adapts to changes to keep the company¡¦s performance up in times of adversity. In 2020, as expected, Centaline had managed to increase its profit margins, retain its talents and recruit elites from other industries in preparation for further business expansion...

more...
FEATURE

Rewarding leading companies for their outstanding achievements well-recognized by various industries



Property agents making use of online virtual property viewing, adapting to changes and improving employee morale in times of adversity
A long-standing caring culture talent a core value of Hong Kong Housing Society

Talent development is the key - HKPC facilitates 2-way communication to maximise staff potential

Investing on human capital development to cement market leadership position

Century-old brand shows it really cares about its employees

Rising to the challenges of COVID-19 and reaping the rewards, sharing the harvest with staff through bonuses and salary increments

Keeping the pace with suppling tasty foods for society

Helping people in their hour of need, spreading love to every corner during the pandemic

Keeping employees connected with care and respect amid the pandemic

Caring and sincerity - Put employees in the company spotlight

Mastering skills for the future; navigating the new normal

Chiyu Bank spreads love and supports education

Communication makes a brand fresher experience brought by advancing trainings
Driving business expansion and promoting Kah Kee's faith

Integrating modern digital technology into our new headquarters - Creating ¡§NOT JUST A BANK. A HOME¡¨ for employees

Developing a creative forward-looking team

Thinking beyond insurance by converting pandemic challenge into opportunity, staying strong and achieving your dreams through personal development

¡§Adversity is the first path to truth¡¨ - Employee engagement rate rises by leaps and bounds

¡§K. Wah Family¡¨ stands united in face of the pandemic

New way-out of the pandemic, incubating next-generation talents

Inspiring and nurturing future leaders with an innovative mindset

¡§Heroes¡¨ keep our city moving

The importance of employee care during times of uncertainty

Rewarding leading companies for their outstanding achievements well-recognized by various industries