Property Agents Making Use of Online Virtual Property Viewing,

Adapting to Changes and Improving Employee Morale in Times of Adversity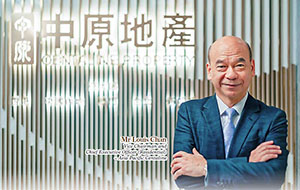 Mr Louis Chan
Vice Chairman and Chief Executive Officer (Residential)
- Asia Pacific at Centaline
Due to the COVID-19 pandemic, all walks of life are severely affected. Employees tend to feel anxious about their career prospects. As an awardee of the Employer of Choice Award, Centaline Property understands employees thoughts and quickly adapts to changes to keep the companys performance up in times of adversity. In 2020, as expected, Centaline had managed to increase its profit margins, retain its talents and recruit elites from other industries in preparation for further business expansion.
Mr. Louis Chan, Vice Chairman and Chief Executive Offi cer (Residential) Asia Pacific of Centaline, said 2020 was an extraordinary year. Four successive waves of epidemics have severely impacted all industries. Fortunately, our sales fi gures had just fallen by 3% last year, with over 60,000 cases of transactions, which were similar to those in 2019. We were barely profi table, which was already better than other industries. This also refl ected peoples support for Centaline. We feel grateful for this!
He continued, in the past when property market was thriving, Centaline strove for further improvement. Yet in last year, Centaline focused on keeping employees safe and healthy, maintaining the companys competitive edge to survive in the market. In 2020, it was important to survive! Centaline is responsible for maintaining the employees standards of living!
As a matter fact, compared against other industries, the real estate agency industry was less affected by the COVID-19 pandemic. Louis explained that there were two main reasons. First, there were QE policies all over the world, leading to persistent depreciation. Hence, the middle-income class bought more properties to counterbalance the effects of depreciation and interest rate drop. Second, since 2019, Hong Kong has been offering HighAdvance Mortgage loans of up to HK$10 million. These two factors have attracted more young homebuyers.
Last Year: Hong Kong People Buying Local Properties
He added, in the past few years, Centaline mostly sold first-hand properties; however, since the implementation of the border closure and restrictions on gatherings, mainland and overseas investors could hardly enter Hong Kong. Hence, property developers modified their sales strategies accordingly. Compared against the previous year, there were 30% less new properties available in 2020. Contrastively, the sales of secondhand properties had grown by leaps and bounds in 2020. Last year, most of the customers were aged 30 or below and they tended to buy properties priced from $4 million to $5 million in the New Territories. It is said to be Hong Kong people buying Hong Kong properties.
In addition to the changes in the properties nature and target customers, Centaline had drastically changed its business model last year. Business facilitated through online channels has expanded by 30%. Since 10 years ago, we has gained insight into the need to accelerate digital transformation. Centaline has invested over $200 million annually to optimize its IT system and mobile app. Property owners and Centalines employees can use mobile phones to list second-hand properties instantly. Frontline agents can also take photos and videos on-site and upload them to Centalines website and mobile apps, as well as social media platforms, to reach even more potential customers. Last year, Centaline had developed the platform VR Guide, allowing agents to broadcast property viewing to online audience. Customers can view properties online and make enquiries in the live streaming in real time.
Practical Introduction by Real Estate KOLs to Attract Customers
Roughly speaking, there are over 60,000 videos about different properties on Centaline's website at present. Over 500 new videos are uploaded monthly. Louis said, many young agents have become Real Estate KOLs. The younger generation are native to IT and love communicating online. They use internet slangs to introduce properties and are highly welcomed by customers.
"Owing to the epidemic, Centaline has accelerated its online business transformation in preparation for the challenges in 2021. More resources will be invested in this aspect. Even without the pandemic, online sales are destined to be the major trends!
Louis added, both frontline agents and back-office staff were the successful factors to overcome challenges last year. The IT Department had contributed a lot. Basically, there are countless Zoom meetings involving 3,000 employers every day. Success lies in the comprehensive hardware support and back-office staffs contribution, especially from the IT Department.
Attracting Elites from the Aviation and Tourism Industries
It is known that the attrition rate among real estate agents has always been high; hence, Centaline has been recruiting staff constantly. Since last year, practitioners from the aviation and tourism industries have been attractedto join Centaline. We believe elites from these two industries are fit to become property agents, all of whom should be human-centred and possess effective communication skills. Since the first wave of the pandemic, Centaline has been hiring elites from other industries. There are approximately 200 new employees shifting from other industries, and Centaline has 6,000 employees serving over 400 branches at present.
According to the Estate Agent Ordinance in Hong Kong, agents must possess a valid license. There are two major categories, including the salesperson's licenses and estate agent's licenses. The former is a basic requirement to work as an agent; the latter is required to take control of the companys business.
Louis continued, last year, Centaline Training Institute had changed from providing multi-dimensional continuous education courses, to offering intensive courses, guiding agentsto- be to achieve their only goal of getting the salesperson's licenses and estate agent's licenses. This year, the key is to survive. Upon obtaining the licenses, they can close business deals and earn commissions, maintaining their standards of living.
Keeping Employees Jobs, Backing Employees Up
Louis expressed, it was difficult to maintain employees sense of belongingness as they were required to work from home whilst all large-scale meetings, celebrative dinners and annual dinners were cancelled due to the pandemic. However, we believe their sense of closeness to Centaline can be strengthened when the company can keep them safe and healthy. To fight against the COVID-19 crisis, we allowed employees to work from home. Most of them could gain access to Centalines server through their home computers. They were well supported to carry out business activities. They felt encouraged as the real estate industry was less affected by the pandemic!
Louis said employees felt motivational as Centaline is awarded the Employer of Choice Award, Retention Strategy Award and Asia Pacific Outstanding Employer Award again. He emphasized, 2020 was an extraordinary year. He would like to thank his coworkers for their diligence at work, and wish all citizens would enjoy good health, overcoming challenges posed by the ongoing pandemic.