| | |
| --- | --- |
| More Issues: | |
| | |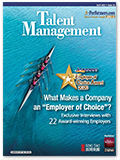 Apr 2021
Issue 35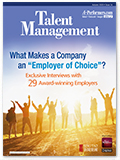 Sep 2020
Issue 34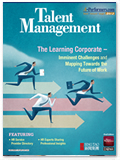 Jun 2019
Issue 33





In today's rapidly changing business landscape, human resources personnel are not only handling routine work and administrative tasks but, on a more important level, they have taken on a pioneering role to nurture new talented cohorts to contribute to their overall business success.

In this issue, HR professionals and senior management from various well-known companies across a wide range of industries share their successful initiatives and unique insights on learning and development in talent engagement. All of them are awardees of The Employer of Choice Award 2019, organized by JobMarket, as prestigious acknowledgement of their outstanding employee development strategies and practices, setting important milestones for the entire HR industry




Taking advantage of flexible operations and information technology to capture greater business opportunities
Months of social unrest inevitably have adversely affected the local economy and employment market. According to the government¡¦s latest report, the Hong Kong economy contracted by 2.9% yearon- year in the third quarter of 2019. The social protests took a heavy toll on both the retail and tourism-related sectors. This dealt a very severe blow to the economy which had already been weakened by a pan-global economic slowdown and escalating US-mainland trade tensions. What¡¦s more, market watchers assure us that the current economic challenges are still not yet behind us....

more...
Taking advantage of flexible operations and information technology to capture greater business opportunities
"We Do It Right" Hang Lung Properties treats employees like customers

Diversified sauce flavours Meticulous staff management

Constant appreciation creates McHappy staff

Winner of "Asia Pacific Outstanding Employer Award" Constant Pursuit of Innovation and Talent Cultivation

Fostering creative mindsets Boosting healthier lives

Enrich employee experience and maximize development opportunities with a 360o solution

Equipping Talent with Leadership Skills Taking a Leap Forward inSustainable Development

Zung Fu's Driving Full Speed on the career highway

Leveraging Technology in Employee Communication and Recognition Enhancing Engagement for Better Productivity

Fostering diversified talent development to embrace InsurTech era

Making use of a healthcare staffing solution platform for greater flexibility

Talent is paramount in the digital marketing industry Creating strong synergic collaborations

Building up a talent pool to embrace the 5G era
Driving business expansion and promoting Kah Kee's faith

Embracing change with an open corporate culture

csl boosts customer satisfaction by offering a more personal and caring telecoms service

Addressing the housing needs of employees, Dah Sing Bank demonstrates the true significance of"NOT JUST A BANK. A HOME.".

Cultivate sense of belonging through better communication

Actualizing Excellent Business Visions; Spreading Love and Care to Employees

Attracting talent through innovative recruitment approaches

Cultivating a Happy Workplace with Respect and Family Harmony Assuring Employees a Bright Future

Enhancing its employer brand by means of a hospitality academy and an innovative recruitment campaign

Promoting a work-life balance to create a virtuous cycle

Kai Shing Management Services Limited Boosting Genuine Care and Happiness among Employees

Better Employee Well-being Leads to a More Cohesive Work Culture

Fostering a caring culture while embracing new technologies
'Data Literacy for everyone'- Reality or Myth?

Sharing delicious food and workplace happiness