Taking advantage of flexible operations and information technology to capture greater business opportunities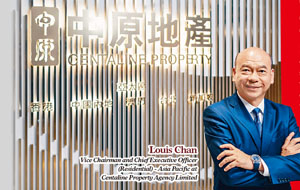 Louis Chan
Vice Chairman and Chief Executive Officer (Residential) - Asia Pacific at Centaline Property Agency Limited
Months of social unrest inevitably have adversely affected the local economy and employment market. According to the government's latest report, the Hong Kong economy contracted by 2.9% yearon-year in the third quarter of 2019. The social protests took a heavy toll on both the retail and tourism-related sectors. This dealt a very severe blow to the economy which had already been weakened by a pan-global economic slowdown and escalating US-mainland trade tensions. What's more, market watchers assure us that the current economic challenges are still not yet behind us.
Louis Chan, Vice Chairman and Chief Executive Officer (Residential) - Asia Pacific at Centaline Property Agency Limited, says that their company has adopted a relatively conservative and secure approach in view of the intensified economic risks at hand. ¡§We have no intention to reduce our business scale or the number of staff and will continue to maintain our current operations. So far, our group has about 430 branches with close to 5,800 employees.¡¨
Chan adds that the Hong Kong government¡¦s relaxation of mortgage payment rules (for the fi rst time in nine years) has helped boost home ownership and caused secondary market turnover to surge. Moreover, many developers are offering more competitive price schemes together with a host of privileges to attract potential buyers, resulting in satisfactory sales within fi rst-hand residential property market. ¡§We can see that overall the real estate market has not been substantially affected by the local social unrest and economic downturn.¡¨
Actively recruiting workers from other industries
He emphasises that the property agent industry has already established strong capabilities in order to adapt to different market cycles as well as effectively deal with government regulations. "I'm sure that our teams will be able to overcome the current challenges," he adds. "Indeed, we have attracted more talent from other industries such as travel, retail, insurance or others, which, to a great extent, have been hit hard by the recent negative economic atmosphere, in order to allow them to segue into their next careers in property sales."
Under the Estate Agents Ordinance, anyone practising estate agency work in the course of business in Hong Kong must hold a valid estate agent's license, while those who acts as a salesperson of an estate agent must also hold a valid salesperson's license. Chan explains that people who want to get a license can attend a six-class course for examination preparation at the Centaline Training Institute during evenings. Alternatively, they can also apply for business development assistant at Centaline Property Agency to familiarise themselves with industry practices and undergo a three-month job training before taking the examination. He adds that it's not very difficult to pass the examinations to earn these two licences, and in most cases it takes just one month's time.
To encourage staff to continually pursue selfenhancement, the Centaline Training Institute also provides a wide range of training courses to strengthen their mindsets, negotiation skills, management skills and Putonghua communications. This is coupled with a series of core subjects to gain in-depth professional knowledge about the Buildings Ordinance, Residential Properties (First-hand Sales) Ordinance, Personal Data (Privacy) Ordinance, plus other finance matters, accounting and business management issues that will contribute to their career development and business operations.
Utilising digital technologies to increase efficiency
The rapid development of information technology has already revolutionised today's business models as well as products and services offered by many traditional industries. Centaline has also made rapid strides to achieve true digital transformation in order to maintain its leading position and bolster its market competitiveness. Chan highlights that their transaction processes have already been fully digitised, resulting in a big leap in online sales results.
"Making use of our proprietary mobile app, property owners and our agents can now list sales via their mobile phones at a moment's notice," explains he. "The photos and videos shot on-site can also be uploaded to our website and apps as well as other online platforms and social media to reach a larger base of potential buyers." He reveals that the company has invited many professional photographers and camera experts to instruct their frontline staff on the use of different shooting angles, lighting effects and higher resolution for eye-catching outputs, and to maximise page views.
Utilising a huge volume of cloud-base data, Centaline agents can access all updated information on its 'A+' system with their mobile phones about for-sale properties across different districts to provide valuable data instantly to interested buyers, who, in turn, can liaise and negotiate with agents via 'e+', an instant messaging platform, or WeChat to increase overall efficiency. Moreover, Centaline has developed an online payment system which adds convenience for buyers to pay deposits and commissions. With the help of other proprietary mobile apps, agents can also close deals and apply for the supply of water, electricity, gas for buyers right at their fingertips.
Advanced information technology helps property agents access a plethora of data, making their work easier. "That's why our company invests more than HK$200 million each year to optimise our IT systems and enhance artificial intelligence applications to support our agents and secure improved sales results," says Chan.
Sales of overseas properties as a new driving force
Centaline has already set up more than 1,500 branches across 36 cities in mainland China, among which about 80% of these branch offices are located in the Greater Bay area to take advantage of the latest mainland government policy, which has loosened the restrictions for Hong Kong residents making property purchases in various cities. Chan says that Hong Kong agents can collaborate with mainland branches to help potential buyers from the Territory make purchases and foster more transactions.
The recent social unrest has led to the trend of emigrat ion among many Hongkongers who are contemplating a move to various destinations, including the United States, Canada, Australia, to other Asian areas including Malaysia, Thailand, Taiwan, Singapore and others. Because of this, they may opt to purchase the real estate for investment or personal use in the city of their choice. For more than two decades, Centaline has run a team comprising 20 to 30 staff to explore the investment emigration markets.
"These colleagues in general possess higher educational qualifications and better language skills to serve those Hong Kong and mainland investors who are interested in buying overseas properties," explains Chan. "We at Centaline have established a wide cross-section of businesses to overcome market fluctuation and maintain a solid foundation. In fact, real estate agents should also pursue self-enhancement and learn all they can, not only about the local property market, but also the markets in the Greater Bay area and other countries. The result will be greater flexibility and stronger competitiveness."