| | |
| --- | --- |
| More Issues: | |
| | |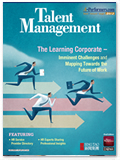 Jun 2019
Issue 33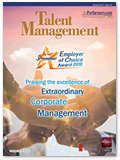 Apr 2019
Issue 32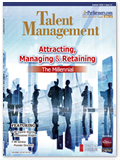 Jul 2018
Issue 31





In today's rapidly changing business landscape, human resources personnel are not only handling routine work and administrative tasks but, on a more important level, they have taken on a pioneering role to nurture new talented cohorts to contribute to their overall business success.

In this issue, thirty-two award-winning HR professionals and senior management from different well-known companies across a wide range of industries share their successful initiatives and unique experiences in talent engagement. All of them are winners of the 2018 Employer of Choice Awards, organized by JobMarket, as prestigious acknowledgement of their outstanding employee development strategies and practices, setting important milestones for the entire HR industry.




Praising the excellence of extraordinary corporate management
Talent management and professional training is one of the nest ways to retain companies' most valuable asset, employee. Job Market Publishing Limited, a subsidiary of Sing Tao News Corporation Limited, organized the fth Employer of Choice Award Ceremony on 25th January, 2019. The award is not only an acknowledgement of corporate with outstanding performances in recruitment and human resources management, but also an encouragement to employers to incorporate innovative and technological elements into their workplace. The award ceremony recorded its highest number of awardees this year, 41 leading companies celebrated their excellence with honorable guests and professional judges across industries.......

more...
Praising the excellence of extraordinary corporate management


Providing Value-added Training and Formulating Friendly Policies; Supporting the Middle-aged and Elderly to Re-enter the Job Market


Dedicated to Nurturing Leadership
10 Motivating Employees and Alleviating Their Frustration Multiple Methods to Help Agents Overcoming Challenges
Motivating Sta to "Do Good Feel Good "Displaying a Spirit of "Good Deeds"
Hang Lung Properties Treasuring Talent Development
Wearing our 'Wardrobes' and Helps Performing Good Shows Everyday
A Bowl of Instant Noodles Infused with ACG Creativity
Great People make Schneider Electric a Great Company
Driving All the Way to Success with Sta
Prosperous Aviation Logistics Industry Incubating Talents and Making Contributions to Society
Keeping Abreast of the Times Taking Advantages in Innovation
Technology
Turning Pro t Earnings Into an Education Fund
Enhancing engagement and communication Caring for all sta at Chong Hing Bank
Ful lling Sta's Dreams of Home
Ownership
Blissful Leave, Blissful Life
"Dare to be Di erent"
Dominating the Global Construction Market There is no the best but better
Incubating Talents with Selfdirected Innovative Training


Creating Synergy with Employees' Sense of Togetherness Making K. Wah a Big Family for Employees
Ensuring Colleagues Realise Their 'Humble Real-Life Happiness'
Plant the seeds and neglect the fruits; Motivating Employees with Innovative Strategies
A Flavorful Workplace with a Human Touch
Unity in Delivering Awardwinning Services People-Centric Approaches to Cater for Employees' Needs
Incubating Talents with Heart & Building Professional Teams to Actualize "Quality in Motion" Promise
Fostering Entrepreneurship In Pursuit of Cross-Gen Collaboration
Rewarding Employees to Take 10,000 Steps Daily for a Healthier
Lifestyle
Identifying Market Trends; Matching IT Talent with Di erent
Industries
Caring for Employees' Well-Being Promoting Work-Life Balance with a Holistic Approach
Sparkling Crystal; Wholehearted Caring
Human-centred Catering Industry "Cafe 100%" Incubating Talents 45 Established a Century Ago, World-4 UPS is Growing with Employees
Packaging Queen's Human Touch Unlocking Wai Tat's Potential 47 Selling a Million 'Dons' a Month Reliance on Genuine Communications and 'Quality with Conscience'