Praising the excellence of extraordinary corporate management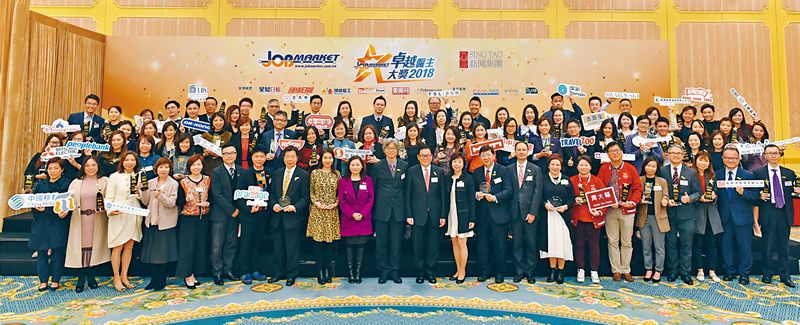 Talent management and professional training is one of the nest ways to retain companies' most valuable asset, employee. Job Market Publishing Limited, a subsidiary of Sing Tao News Corporation Limited, organized the fth Employer of Choice Award Ceremony on 25th January, 2019. The award is not only an acknowledgement of corporate with outstanding performances in recruitment and human resources management, but also an encouragement to employers to incorporate innovative and technological elements into their workplace. The award ceremony recorded its highest number of awardees this year, 41 leading companies celebrated their excellence with honorable guests and professional judges across industries.
Grab the opportunity to run a better
The Employer of Choice Award Ceremony 2018 was a great success. Job Market had the honor to invite CPPCC National Committee, Member of the Executive Council and Legislative Council, Mr Jeffrey Lam Kin-fung, GBS, JP as an of ciating guest, along with Chief Executive Of cer of Sing Tao News Corporation Limited, Mr Siu Sai-wo, Publisher & Chief Executive Of cer of Job Market Publishing Limited, Dr Fanny Chan Ed D Bristol, President of Hang Seng University of Hong Kong, Prof. Simon Ho, Chief Praise Maker of Praisage, Mr Danny Chan, and other professional representatives sharing the delight of receiving this meaningful award with awarded companies.
Hong Kong, as an international financial and commercial trade hub, converges plenty of professional talents. It has been a challenge for employers to recruit and retain them though, under the circumstances of global economic crisis. Ą§It is heartening to see companies with the passion to develop human resources management policies, especially some that harmonizes with the development of the Greater Bay Area, says Mr Lam. He stresses the importance of employers to keep in pace with the business environment and to recognize the needs of employees. Investing on employees through supporting them with a more effective management system and creating a better working atmosphere will eventually increase the quality of talents. Mr Lam also wishes all awardees of The Employer of Choice Award the continuity to make an impact in the industry, improve labour relations, and to bring prosperity to the city.

Employer of choice at its highest
This year, a total of 38 prestigious companies received The Employer of Choice Award, 15 companies received the Professional Award, 5 companies received Asia Paci c Outstanding Employer Award, 2 companies received Outstanding HR Service Provider Award, and 5 companies received Appreciation Culture Award. The 12 Professional Awards consist of Employee Engagement Award, Learning & Development Award, Next Generation Development Award, Corporate Social Responsibility (CSR) Award, Innovative Recruitment Strategy Award, Innovative Technology Deployment Award, Workplace Culture Change Award, Leadership Development Award, Work-Life Balance Award, Diversity and Inclusion Award, Employee Communication Award, and Retention Strategy Award. The Employer of Choice Award serves its purpose as recognition of the contribution of selected companies in talent management, and an appreciation of their hard work in the human resources industry.
More Awardee interviews will be published onĄG http://www.jobmarket.com.hk/EOC2018