| | |
| --- | --- |
| More Issues: | |
| | |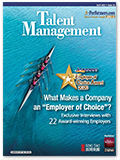 Apr 2021
Issue 35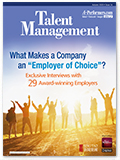 Sep 2020
Issue 34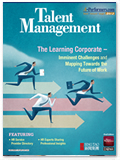 Jun 2019
Issue 33





In today's rapidly changing business landscape, human resources personnel are not only handling routine work and administrative tasks but, on a more important level, they have taken on a pioneering role to nurture new talented cohorts to contribute to their overall business success.

In this issue, HR professionals and senior management from various well-known companies across a wide range of industries share their successful initiatives and unique insights on learning and development in talent engagement. All of them are participants of the Greater China Talent Management Summit 2019, organized by A-Performers, as prestigious acknowledgement of their outstanding employee development strategies and practices, setting important milestones for the entire HR industry.




L&D is the Life Blood Amid Todays Technology Era
While technologies were once regarded as the enablers and tools in the past, now new technologies like arti cial intelligence (AI), machine learning and others are more like interactive partners for many businesses. Furthermore, in the past, many successful products like Kodak lm and Sony Walkman could have a 40- or 50-year life span in the market, but now business cycles are too short, with all kinds of ups and downs occurring in less than a decade. "That's why learning and development are the life blood elements of an organisation, if it wishes to move forward," says CF Wong, FCMA, CGMA, Member of Regional Advisory Panel, North Asia, Association of International Certi ed Professional Accountants. (the Association).......

more...
L&D is the Life Blood Amid Today's Technology Era Innovation Drives Bold Transformation
Smarter Sta Should Possess DQ in addition to IQ and EQ
Initiate 'Leading Destruction' Practices in L&D
Fostering the Spirit of Innovation and Entrepreneurship
Using AI to Maximise Learning E ectiveness
Facilitating the Ownership of Learning and Development among Sta
Practice Makes Perfect? Practice Makes Permanent!
Discover the Fun of Learning and Development in a Theme Park Setting


Co-Creation of Learning Journeys:
Business and Executive Education Today

HR SERVICE PROVIDER DIRECTORY