| | |
| --- | --- |
| More Issues: | |
| | |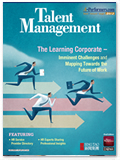 Jun 2019
Issue 33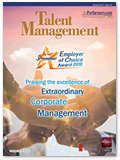 Apr 2019
Issue 32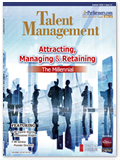 Jul 2018
Issue 31





In today's rapidly changing business landscape, human resources personnel are not only handling routine work and administrative tasks but, on a more important level, they have taken on a pioneering role to nurture new talented cohorts to contribute to their overall business success..

In this issue, HR professionals and senior management from different well-known companies across a wide range of industries share their successful initiatives and unique experiences in talent engagement. Most of them are participants of the Greater China Talent Management Summit 2018, organized by A-Performers, as prestigious acknowledgement of their outstanding employee development strategies and practices, setting important milestones for the entire HR industry.




Potential¡KEqually Important as a Track Record for Millennial Recruitment
With the advent of artifi cial intelligence and automation on the near horizon, we are seeing fewer routine administrative tasks, less repetitive manual labour jobs, and fewer fulltime, traditional positions that require just one skill set. ¡§For this reason, millennials should be fl exible and have the ability to keep learning new and different skills in order to stay ahead of the future workplace revolution,¡¨ says Dr. Aidan Goddard, council member of the Chartered Institute of Management Accountants (CIMA).......

more...
Potential¡KEqually Important as a Track Record for Millennial Recruitment


Unleash Millennials' Creativity by Easing Boundaries


Nurturing Positive Financial Management Attitudes Among Employees to Enhance


The Emergence of the 'Gig Economy' Mobilised by Millennials


Motivating Millennials with Communication, Appreciation and Benefi ts


Building a Thriving Workplace to Enable Millennial Workforce Performance


Food for Thought ¡V Promising Careers for Millennials


Engaging Millennials in Meaningful Work The Key to Optimsing their Talents


Time to Develop a New Kind of Leader to Manage Young Millennials



HR SERVICE PROVIDER DIRECTOR

FEATURE
Hiring Craze at New Hotels : Serious Shortage of Catering and Housekeeping Employees

WHAT'S NEW
Hong Kong Employers report upbeat 3rd-quarter hiring intentions