| | |
| --- | --- |
| More Issues: | |
| | |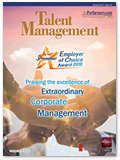 Apr 2019
Issue 32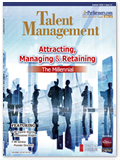 Jul 2018
Issue 31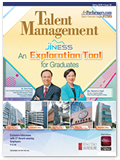 Mar 2018
Issue 30





HR used to be last in the technology line in most companies, but the digital world has changed the situation. Digitally transformative processes have automated many of HR processes or made them more efficient overall. HR are now in a position to make a significant impact on the long-term health and success of their organization. New technology eliminates the silos that kept their department separate thus allowing integrated systems to share data, they get the insights required to grow the company.

Digital HR, which brings together social, mobile, analytics, and cloud (SMAC) technologies, represents a new platform for improving the employee and candidate experience. This new vision for digital HRˇXby integrating SMAC technologies to redefine employee experience which ultimately makes work easier, real-time, more productive, and more rewardingˇXwhile hopefully, improving work-life balance.

In this issue, we have invited speakers at the Greater China Talent Management Summit 2017 to share their insights on Digital HR, and discuss opportunities and challenges of the disruption.




Developing a Pool of DigiTalents to Prepare for the Challenges Ahead
Digitalisation is a global trend affecting all industries. To stay relevant with customers, reshape your business landscape, and stay ahead of market competition, it is not only about how you can create and adapt to new digital technologies, but what is also just as important is talent development. "By unveiling the DigiTalent Programme, we, as one of the Hong Kong pioneers in the industry, aim to nurture an internal pool of digital experts who are empowered to drive the transformation for our Group to become a digitalised business corporation," says Teddy Liu, General Manager - Corporate & Talent Development at New World Development Company Limited......

more...
FEATURE
Developing a Pool of DigiTalents to Prepare for the Challenges Ahead

FEATURE
Empowering Staff with Digital Tools to Maximise Productivity

INSIGHT
Adopting Big Data and HR Tech Solutions for Human Capital Management

FEATURE
Revamping Conventional HR Thinking at HKBN

INSIGHT
HR Practitioners Serving as Transformers for Success in Today's Digital Economy

OPINION
Steering the Workforce to Stay Ahead in the Digital Era

INSIGHT
HR Takes the Driver's Seat amid the Digital Transformation


OBSERVER
Hong Kong is Aging FastˇK
Challenges for HRs

OBSERVER
The lesson on dragging a paying passenger off a plane in US

REPORT
Hong Kong Employers Expect 3rd-Quarter Hiring Pace to Remain Steady

HR Service Provider Directory