Greater China Talent ManagementSummit 2008 is at its 3rd annual now and it is a high-level networking platform for human resources professionals from Greater China to share insight and strategies on talent management in the region. The conference will focus on the challenges of recruiting and retaining global talents, and how HR professionals develop strategic capacity through effective talent management.
With the huge success of the Greater China Talent Management Summit 2007 last year, A-Performers.com are going to be the organizer again for this important HR event in Hong Kong this year on 23rd September at Kowloon Shangri-La Hotel and we expect this event will be the best ever.
ˇ§A Critical Look at Talent Management ˇV The Tough Challenges Aheadˇ¨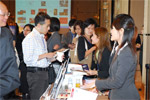 2008 is another economic milestone for the Greater China region. The burgeoning economy results in remarkable increases in GDP in both Mainland China and Hong Kong, making the region one of the most attractive investment destinations in the world with more than 80% of Fortune 500 companies having already invested in, which creates an abundance of opportunities and at the same time, challenges. Business expansion of multinationals and internationalized Chinese firms requires a highly skilled workforce, and talent management has thus been the most critical HR challenge that is set to remain at the top of executive agendas in Greater China for the foreseeable future.
No doubt the prospect of China is promising, but what holds true is that the lack of talent is now deemed as one of the largest constraints on the growth of the world's most populous nation. The long-term growth of China is now more threatened by its yawning talent gap than by any other single factor, and the newly introduced labor law in China even aggravates the situation.
New labor law was introduced on 1 January, 2008 in China. It aims to enhance rights and improve job security for mainland workers. The legislation limits overtime, sets minimum wages and requires one monthˇ¦s pay for each year worked for dismissed employees, which increases staff costs. Less management autonomy and restrictions on hiring through employment agencies etc make hiring and managing talent in China a lot harder for employers.
Back to Hong Kong, as revealed by the HKSAR, the medium-term prospects for the economy remain bright. Hong Kongˇ¦s economy will continue to shift towards higher value-added services and knowledge-based activities in the next couple of years.
Superb infrastructure, financial and accounting systems as well as legal infrastructure make Hong Kong the best place to set up regional headquarters. With the centre of the talent war in Asia, some foresee a long-term talent crisis in the city. Competition for quality talent has become ferocious. The demand for people with local and international managerial skills now exceeds supply, driving up some of the compensation packages for top talent and managers to global levels.
The recent rising inflation in Hong Kong even adds more pressure on talent management. Companies endeavor to battle and minimize the impact inflation has on the volatility of the marketplace by increasing salaries. However, higher salaries and bonuses are having little impact on staff turnover. Not only has there been no improvement in turnover rates but even a further deterioration. Ways to cope with continuous inflation and its negative effect on talent retention is currently a great concern of employers.
There is no doubt that effective talent management strategies should be made the top HR issue for discussion as it is now a challenge not only to recruit the best people, but also to develop and retain them. Recruiting is merely half of the game.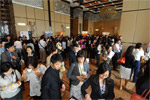 Greater China Talent Management Summit 2008 highly anticipated gathering, comprising conference, exhibition and other networking sessions, is especially tailored for HR decision-makers and business professionals to share and absorb new effective ideas, strategies and practices in talent management.
Who should attend?
The event, the topics and its leading speakers are set to attract HR directors, managers and business leaders from Greater China.
Conference
These intensive and inspiring conferences will be divided into morning and afternoon sessions with a host of esteemed, top professional speakers sharing their valuable thoughts, insights and experiences on the latest issues affecting elite recruitment
and staff retention.
Exhibition
A special exhibition will offer unparalleled opportunities for sponsors and institutions to showcase their companyˇ¦s branding with respect to services, products as well as other factors in face-to-face dialogue sessions.
Networking
High-level networking opportunities will include registration, coffee breaks, and lunch for delegates, sponsors and exhibitors to enhance business ties and stay current with the latest industry issues.