JINESS ˇVAn Exploration Tool for Graduates
Campus life is busy: choosing modules, living in residential colleges, working for student societies, going on exchangeˇK the list seems endless. Graduates may know little about the workplace and overlook to equip themselves well. Two experienced educators of the Joint-Institution Network for Student Success (JINESS) believed that students should plan for their career ahead during degree study. The four years on campus are defi nitely a time for them to explore the value of life, ascertain future goals and develop marketable and transferable skills. JINESS, with its advance match making function, helps students to know themselves well and facilitate job hunting.
Start career planning in freshman year
With the increase of government subsidy for degree programmes of self-fi nanced tertiary institutions, more students will have access to quality tertiary degree education. However, competition among local and overseas graduates in the job market is more intense than ever before. Advance career planning is vital.
Hang Seng Management College (HSMC) Vice-President (Organizational Development) Dr. Tom Fong, also the Chairman of the Management Committee of Joint-Institution Network for Student Success (JINESS) ˇV the fi rst-of-its-kind job platform for students and graduates of self-fi nancing institutions, suggested, ˇ§The ideal pattern for students to enjoy a fruitful university life should be: enjoying residential college life in the freshman year, going on exchange or doing voluntary work in the sophomore year, engaging in internships and concentrating on projects in the junior year and starting job interviews during the senior year. Getting diverse experiences and interfl ow can help students with goal-setting, understanding themselves and preparing for the workplace.ˇ¨
Adding value to your resume
Dr. Fong added that, unlike the 1970s and 1980s, university graduates were considered elites that had promising career prospects. Nowadays, higher education has become prevalent and institutions are setting increasingly stringent academic requirements for students who, on the one hand, may strive to obtain good academic results; and on the other hand, may overlook career planning for the competitive job market. The JINESS platform was thus established to help equip students.
The fi ve local self-fi nancing institutions participating in JINESS are: Caritas Institute of Higher Education, Centennial College, Chu Hai College of Higher Education, Hang Seng Management College and Tung Wah College. ˇ§Students of the institutions above are by default given login accounts on the platform. They can access JINESS to create their own profi les (JProfi les) in four aspects ˇV ˇ§QESSˇ¨ - Qualification, Experience, Skill and Strength. Even first-year students can discover their less favourable aspects by looking into the matching results of their profi les against prospective jobs (JCareer). Once they have identifi ed the competences and weaknesses, they can work on goal-setting and framing the upcoming four-year learning path accordingly. The skills and professional qualifications gained from activities, exchanges and internships can enhance studentsˇ¦ self-confi dence for job hunting,ˇ¨ Dr. Fong said.
He believes that self-understanding is the basis for career planning. The four years of campus life is the best time for the prolonged process of exploration. Students can understand the workplace better in a systematic manner with the aid of a smart platform.
Dr. Tom Fong
Vice-President (Organisational Development)
Hang Seng Management College
Chairman of Management Committee of JINESS
Identifying goals and go for it
Young people can learn great lessons from othersˇ¦ experiences. The Director of Student Affairs of Hang Seng Management College, Ms. Rebecca Chan is passionate about youth work and she thinks taking initiative to explore is important. When explaining her journey to becoming a social worker, she said, ˇ§I liked geography when I was in secondary school, so naturally I majored in geography at university. Yet the related subjects like climatology required complex calculations, and I was never strong in. Through participation in student activities, I found that I enjoyed learning from practical experience most; therefore, I thought about switching to social work or journalism which offered practicum. After seeking advice from a senior, I realized that reporters do not have to be journalism graduates but social workers must possess a social work professional qualification, I then decided to major in social work instead.ˇ¨
Having found the learning mode that she preferred, Rebecca chose the right direction and later enjoyed her practicum - serving the youth, the elderly, the mentally handicapped and the list goes on. Through serving others, she also discovered her self-value. Nevertheless, she had to make another important decision at the time of graduation, ˇ§I worked regular hours when serving elderly people because they often go to bed and get up early. At the same time, I know very well that I have been passionate about serving young people, yet the working hours of youth centres usually last from the afternoon to the evening. Ultimately, I opted to follow my interest and aspiration, and got involved in youth work despite the working hours. Once you have found your aspiration, you can make your career choice.ˇ¨
Today, Rebecca is no longer working at the front line but at an institution instead. Her case shows that planning ahead can pave the way for oneˇ¦s career accomplishment. Exploration made during university days results in far-reaching effects in the future.
Ms. Rebecca Chan
Director of Student Affairs
Hang Seng Management College
Paying attention to social trends and cultivating long-term skills
During self-exploration, students should also pay attention to what is happening in society. Dr. Fong pointed out that graduates are facing unprecedented challenges in todayˇ¦s fast-changing world. ˇ§The rise of digital media alone has given a big blow to sales and marketing, and media industries, as well as triggered demands for new talents. Employers today crave for graduates with diversified skills. Apart from professional knowledge, they also look for employees who have proper work attitude and good spirit for continuous learning. Talents with these personality traits can help enterprises thrive in an ever-changing market environment,ˇ¨ he said. To plan for their future, he suggests that students need not to be bounded by their academic backgrounds. They should instead develop critical transferrable skills in the working environment such as creativity, interpersonal skills, cross-cultural communication, leadership skills. These are what employers look for.ˇ¨
As for future trends, he suggests that students should pay more attention to the issues of aging population, digital media, infrastructural projects in Hong Kong and the Pearl River Delta. He expects these areas will generate huge demands for talents, and bring forth new opportunities for the next generation.
Making good use of connections
The proliferation of the Internet and digital media have not only created new jobs, but also lowered the threshold of setting up businesses which give graduates an additional option on career planning. A local survey shows that more than 70 per cent of youngsters had considered running their own businesses. Rebecca expressed that not everyone is suitable for becoming an entrepreneur ˇV it is for those who have passion, imagination, and persistence.
Connection does matter. Rebecca said ˇ§A business owner cannot just fight on his/her own, but has to be ready to listen to others and look for funding or support at the right moment. He/She needs an extensive network to have their products or services known. Campus and joint campus activities, especially those were organized by JINESS (JConnect), help broaden studentsˇ¦ personal networks.ˇ¨
She cited another example, ˇ§If students study information technology or engineering at Chu Hai and want to invent products that offer protection for elderly people, they can pair up with students who are healthcare major at Tung Wah. They will be in an even more advantaged position and can be more creative by drawing on the ideas of students who study marketing or communications at Hang Seng Management College.ˇ¨
Indeed, Mr. Steven Lam, a co-founder of GoGoVan, which has just merged with the Chinese logistics company 58 Suyun, is a graduate of Hang Seng School of Commerce (the predecessor of Hang Seng Management College). Its business covers 80 percent of the local market, and has expanded to China and Southeast Asia. It is a model of successful start-up. Steven has shared his experience and the challenges of starting his own business with students at his college.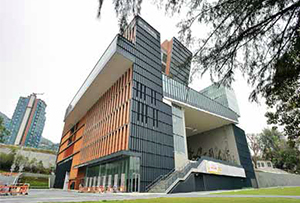 Entrepreneur? Employee? Itˇ¦s all about self-understanding
Rebecca advises, ˇ§Whether to be a staff or to run a business, students should understand their own aspirations, interests and abilities. For example, those with innovative minds do not necessarily run companies; they can make use of their creativity in exhibition fairs or marketing jobs.
At the Career Summit held by JINESS earlier, Mr. Nelson Yip, one of the guest speakers, is an entrepreneur with businesses in energy saving, LED lighting and electronic parts. He thinks that, regardless of age, one could launch his/her own business as long as there are adequate preparations such as funding, market survey, etc. Graduates could plan for long-term career. For example, they should pay attention to the market changes and wait till they have acquired enough experience and personal networks before starting their own company.ˇ¨
About JINESS
The Joint-Institution Network for Student Success (JINESS) is Hong Kongˇ¦s fi rst joint-institution career platform for students and graduates of self-financing institutions, supported by a HK$20 million fund from the Quality Enhancement Support Scheme (QESS). The participating institutions are: Caritas Institute of Higher Education, Centennial College, Chu Hai College of Higher Education, Hang Seng Management College and Tung Wah College.
Unlike traditional job search websites, JINESSˇ¦s smart system automatically matches applicantsˇ¦ resumes with the requirements of a post. It will generate clear results to applicants notifying them of the skills needed to fulfill the requirements. The four areas of QESS covered by the system enable users to build up a comprehensive resume. Employers can register to post openings on the website for free. They can list their entry requirements for vacant positions using the same QESS criteria, have a quick selection of the right candidates, and send out invitations for interview through the smart system. The website also supports multi-media personal videos allowing applicants to showcase their multiple talents.
After a trial run in December 2017, JINESS has been launched on 9 March, 2018. It is expected to draw employers from the industrial, commercial, government and non-governmental sectors to offer full-time, part-time and internship opportunities ˇV functioning as a bridge between employers and talents.
Web site: https://jiness.hk