The Captain Steering Us Toward a Sustainable Future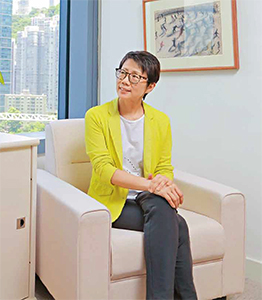 Ms. Christine LOH Kung-wai, JP Under Secretary for the Environment Bureau, The Government of the Hong Kong Special Administrative Region
Widely recognised as a social pioneer in environmental protection
along with arts and culture and equal opportunity issues, Christine Loh
began her career in the business world and then assumed a high profile
when she took up the multiple roles of legislative councilor, leading
icons of various non-profit organisations and eventually her current
position as senior government official. With a successful rise from
private commercial life to senior public affairs over nearly four decades,
Loh emphasises that "Nothing is ever wasted" as she has gained
highly valuable experiences at different stages of life which have all
been inter-related to a certain extent.
Loh has held the position of Under Secretary for the Environment since 2012. Her key roles are to assist the Secretary for the Environment in overall policy matters, with specific responsibilities on air quality, energy, nature conservation, and mainland China as well as international relations. "The signing of the Paris Agreement this April has not only affected national and Hong Kong policies with respect to the problems of climate change, but it has also had a major impact on the business sector," says Loh.
In order to deal with climate change,an urgent and potentially irreversible threat to humankind, the Paris Agreement was adopted by a consensus of close to 200 members of the United Nations Framework Convention on Climate Change last December. The Hong
Kong Government also set up an interdepartmental Steering Committee on Climate Change to draw up long-term policies to reduce carbon intensity by 2030. Hong Kong is expected to meet its 2020 carbon intensity reduction target of 50 to 60%. "Hong Kong must ready itself to make greater efforts and approach climate change more holistically, because it is an issue with a broad socio-economic impact beyond merely environmental protection," Loh emphasized.
In her present duties Loh needs to reach out to different businesses, green advocacy groups, communities and other sectors to explore how to collaborate on combating climate change. "It is important to build up partnerships with different parties to further strengthen energy saving and create initiatives to reduce carbon emissions. I need to design and facilitate multi-stakeholder dialogue processes to
help deepen and broaden understanding on these issues." She explains that she also has to balance the forward thinking of
green NGOs with the practical constraints involved in policy implementation.
Nothing is ever wasted."
Interest in public affairs started at an early stage

Prior to her career in politics, Loh had a 14-year career in the private commercial sector. She was engaged in commodities trading and
strategic planning for Philipp Brothers, and Phibro Energy, divisions of the US multinational Salomon Inc. Starting as a junior staff member, her final position with the company was as regional managing director. She was among the first group of business people to be seconded to work in Beijing in 1980 and help set-up the first US representative office there.
Loh was not particularly interested in environmental problems while working in the commercial enterprises, yet she found herself deeply concerned about public affairs. Moreover, her business background instilled in her the importance of collaboration and this has inspired her to develop positive partnerships between the Government and private sector to help facilitate policy making and implementation. "Nothing is ever wasted," she reiterates.
The concept of sustainable development requires a change of mindset."
Concern for the environment became her key commitment
Loh's interest in environmental issues was sparked in the 1980s. During this period she needed to travel often for business and used
to burn a lot of time on long plane rides by reading many different magazine articles on a host of hot topics, like global warming, ozone
depletion, deforestation, etc. "These stories really woke me up because I thought if only half of them were true, we could not survive."
Around that time she met Linda Siddall, founder of Friends of the Earth (HK), one of the most prominent green groups in the Territory. It was just a coincidence but when Loh gave Siddall her feedback on what she had read, Siddall encouraged her to join the group. Moreover, Loh eventually led the organisation as chairperson between 1991–1992 and 1993– 1994, and these experiences became important stepping stones on her environmental crusade journey.
After she was appointed councilor in the Legislative Council in 1992, she left the business world and then ran two successful elections in 1995 and 1998. As a politician, she championed many issues dealing with environmental protection, arts and culture, and equal opportunity, which included successful reform of the Prevention of Bribery Ordinance, access to information, rural land inheritance
rights for indigenous women of the New Territories, equal opportunity legislation, and passage of the Protection of the Harbour Ordinance. "At that time, not many legislative councilors were interested in pushing green policies," she recalls. "Because these issues were also part of my personal interest, I became a fighter for them." She chose to not stand for reelection in 2000.
Loh has been widely recognised globally for her achievements, including being named as as one of the World Economic Forum's 'Global Leaders for Tomorrow' in 1994; 'Woman of the Year' by Hong Kong Business for 2006; and being recognised as one of the 'Heroes of the Environment' by TIME in 2007; named 'Woman Who Makes A Difference' in 2009 by RBS Coutts/Financial Times' Women in Asia Awards, just to name a few of the glowing accolades she has received.
Align business pursuits with social interests
"The concept of sustainable development requires a change of mindset to bring about full integration of the needs for economic and
social development together with the need to conserve the environment," says Loh. "It also requires the Government and all sectors of the community to work hand-in-hand in order to achieve a sustainable future for Hong Kong." She stresses that enterprises should extend their focus from short-term pursuits of performance and profitability to a longer-term approach to go beyond compliance and explore greater business potential from green lifestyles.
She also thinks that the HR function is now no longer just dealing with the hiring and firing. Instead HR staff can provide professional advice to management and help align major global trends like environmental protection, gender equality and LGBT issues,
etc., with the corporate culture. "Enhancing one's corporate reputation can help HR attract promising young talents who actively seek out employers who share the same vision and are dedicated toward sustainability."